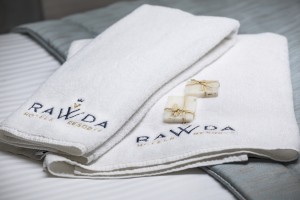 Rawda Hotel Bakırköy is a proud member of the Al-Rawda Hotels Group which has 9 hotels in 3 cities of Saudi Arabia.
With passionately designed 20 rooms, a modern,cozy ambiance and personalized service, Rawda – as one of the most stylish boutique hotels of Bakırköy – offers more than a pleasant stay. Our guests have the priviledge to experience exclusive boutique service while keeping their comfortable life style during their travels.
Located right in the centre of the Bakırköy area within walking distances to plenty attractions that includes four selected malls,the premonade of Bakırköy,sea bus port,numerous other shopping options, eateries and cultural attractions. It is 7 km away from Ataturk Airport and CNR fair centre, 10 minutes driving distance to historical sites of İstanbul and 20 minutes to hip Taksim and Nişantaşı area. With public transport connections providing direct links to all parts of İstanbul, Rawda is the perfect spot for business and pleasure pursuits.
Their Cafe & Bistro, which is located on the groud floor with a garden, offers both hotel and external guests, the delights of intercontinental cuisine and a wide range of coffee and non-alcoholic beverages that will make your stay more enjoyable.
COMPACT SINGLE ROOM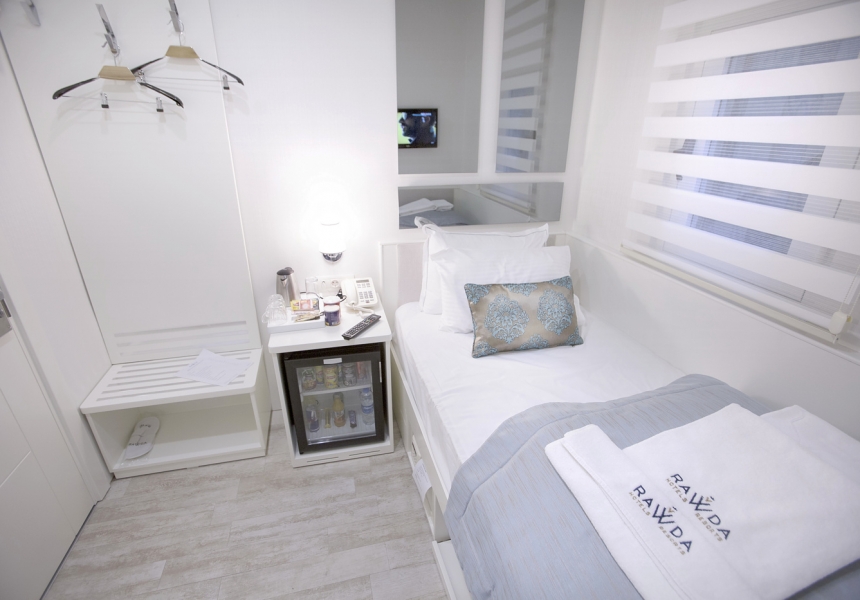 Functionality and comfort is represented in our compact single room.A fully equipped, very small room is a perfect choice for alone travellers or short stays.With Compact Single Rooms Rawda offers a clean, comfortable enviroment for your night and a perfect breakfast for a good day start ,with a very fair price.
DELUXE DOUBLE ROOM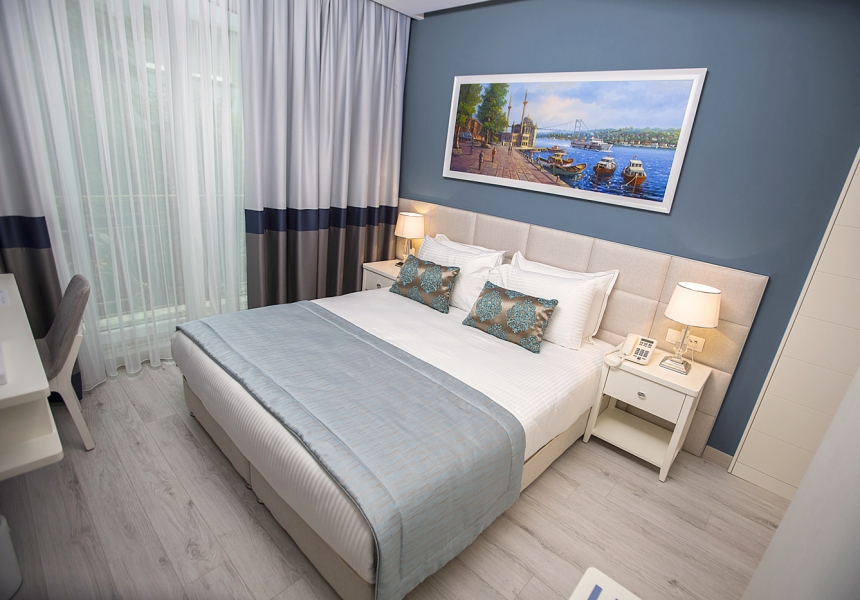 All the pieces of the furnitures are designed specially for a spacious and comfortable Delux double room in 18 m2 area. Each room is decorated with paintings of İstanbul .Wide Windows with Street view and a modern design with a cosy ambiance will give you comfort and relaxation.
DELUXE TWIN ROOM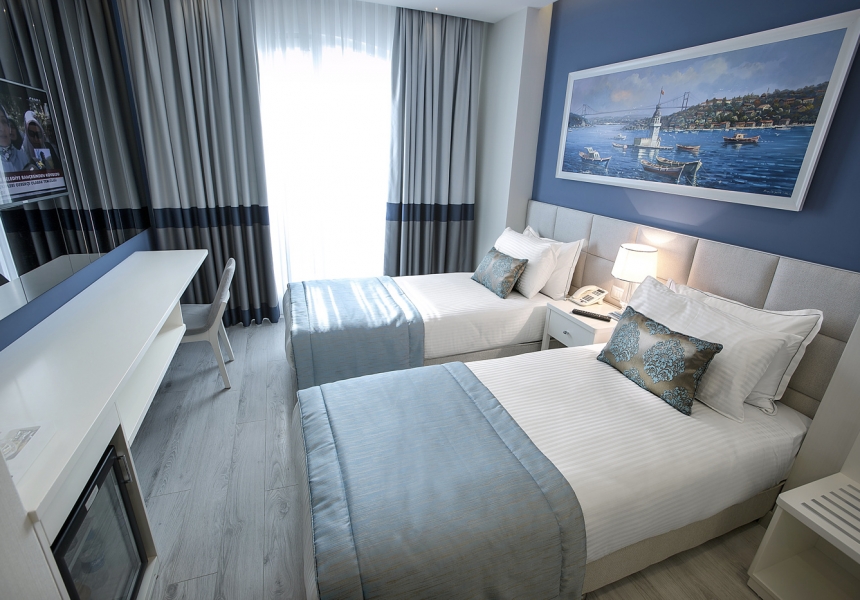 20 m2 elegantly furnished delux twin rooms include two single bedsand offer all the comforts you would expect from a boutique hotel. Twin beds can be joined into one kingsize double bed on demand.Our Delux twin rooms where everything is in the right place, turn your stay into an enjoyable experience thanks to 5 star service phlosophy of Rawda.
A Business Hotel at the City Centre, Bakirkoy, Istanbul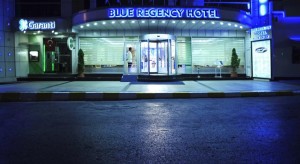 10 minutes away from CNR Expo Exhibition Centre, Istanbul World Trade Centre and airport, Blue Regency Hotel serves with its unique concept appealing to the business world. Located in the city centre and close to the airport, it offers opportunity to reach such modern shopping centres as Carousel and Capacity and Marina on foot.
It takes only 5 minutes to reach the Hippodrome on foot, 10 minutes to historical peninsula and 15 minutes to Taksim Square. Thanks to its location, our hotel enables you to find several other options to get the transportation network of the city; it stands within walking distance to the hydrofoil which serves easy and fast access to the Anatolian side, to the local train for rapid access to Eminonu / Historical Peninsula and to the bus stops for the access to Tuyap Exhibition Centre and arounds.
Underground station providing an easy access from the airport to our hotel and Metrobus station isolating you from traffic jam are also very close to our hotel.
ROOM TYPES
SINGLE ROOM, FAMILY ROOM, STANDARD ROOM, QUEEN ROOM, DELUXE ROOM, TWIN ROOM, BUSINESS SUIT, HANDICAP ROOM.

Naila Hotel gives you the CNR Expo Center, Istanbul World Trade center and at the airport only 12 minutes away, serves on the concept that appeals to the business world. Although it is close to the airport, our hotel is located in the city center you Carousel, Capacity walk to the marina as well as modern shopping centers and allows to reach the possibility. Hippodrome 8 minutes, historic peninsula 10 minutes and 18 minutes drive from Taksim Square. Hotel location nail maintenance to the city's transportation network is getting you there's more than one way; Provide quick and easy transportation to the Asian side of the sea bus, Eminonu / Quick-access to the peninsula for the commuter train, which provides transportation around Tuyap Exhibition Centre and within walking distance to the bus stop takes place. However, at the airport hotel that provides easy access to the metro station, which isolates you from the traffic Metrobus station is located close to the hotel.
All rooms provide a private bathroom.
Hair-dryer
Direct dial telephone system
LCD TV
Satellite system
Mini-bar
VRF air-conditioning system
Safe box
Make-up mirror
Hot-water machine
Coffee / Tea
Electronic key
Free wireless internet
Smoke detector
Fire-extinguishing system
Fire escape